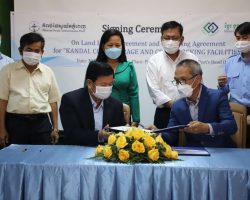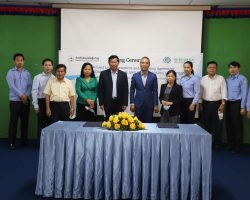 Located in Phnom Penh and Kandal Province, the facilities will help strengthen supply chains and enable greater import/export opportunities.
15 December 2021, Phnom Penh – Khmer Cold Chain Company and Phnom Penh Autonomous Port today announced that they have partnered to construct a cross-docking and controlled temperature cold storage facility located at Kandal Leu Village, Banteay Dek Commune, Kien Svay District, Kandal Province, and are in the process of developing a large-scale cold storage warehouse and distribution facility in Phnom Penh.
The cross-docking and cold storage facility, which will include a 50-foot dock, will increase operational efficiency for the import and distribution of goods. It will also include a dedicated space for value-added services such as pre-cooling, co-packing and labeling, sanitary and phytosanitary services (SPS), picking, and direct store delivery.
The new cross docking facility will provide temperature-controlled logistics (TCL) services. The facility will serve Cambodian and regional farmers, agribusinesses, food processors, pharmaceutical companies, food retailers and hotel/restaurant catering (HORECA) businesses.
According to the feasibility study, an additional 140,000 cubic meters of capacity must be added to Cambodia's existing cold storage volume to meet its supply chain needs by 2030. The new Khmer Cold Chain Company facilities will supply 36,205 cubic meters – filling more than 25% of the current gap – to meet this increasing market demand.
The construction of the new facility will also open up new job opportunities for the people of Phnom Penh and Kandal Province. The construction of the facilities is expected to provide 150 jobs in the communities in which they are based, and over 100 long-term jobs will be sustained once the facilities are in operation.
Across the Covid-19 pandemic, many countries, including Cambodia, have relied on international supply chains as vaccines are produced in one part of the world and shipped to another. The Khmer Cold Chain Company's cold storage facility could potentially provide the ultracold warehousing solutions needed for vaccine and drug storage.
"As Cambodia modernises, its supply chain needs to be built out in a way that both sets the stage for economic growth and allows the country to respond to potential crises, such as food shortages and the need to ramp up the acceptance and distribution of medical supplies. We are designing the facilities with these needs in mind, including plans to construct them in a way that will allow for compliance with international sanitary standards," said PPAP's spokesperson, Mr. Kong Channy, Head of Corporate Secretariat.
"The construction of Khmer Cold Chain Company's new cross-docking and cold storage warehouse represents a significant step forward for Cambodia's ability to take in the goods that it needs, and export profit-making goods," said Khmer Cold Chain Company Director, Mr. Sovathara Heng. "Through this partnership, we aim to fulfil the complete spectrum of cold-chain needs of local businesses and inspire others to undertake the development of cold-chain businesses across the country."
+++++
For more information, please contact
Khmer Cold Chain Company
Email: admin@khmercold.com
Telephone: +855 11 388 399

About Khmer Cold Chain
Khmer Cold Chain's vision is to be the leading third-party provider of temperature-controlled logistics, delivering international quality services to the Cambodian and regional farmers, agribusiness, food processers, pharmaceutical companies, food retailers and hotels, restaurants and caterers/institutional (HORECA/HRI), at competitive prices.
Khmer Cold Chain is a project company of InfraCo Asia Development Pte Ltd (InfraCo Asia), on behalf of which Infunde Development is developing the project.
Headquartered in Singapore, InfraCo Asia is a commercially managed infrastructure development and investment company of the Private Infrastructure Development Group (PIDG). InfraCo Asia invests and develops sustainable infrastructure projects that contribute to economic growth, social development and poverty reduction. InfraCo Asia is currently funded by four members of PIDG – the UK Department for International Development (DFID), the Ministry of Foreign Affairs of the Netherlands (DGIS), the Swiss State Secretariat for Economic Affairs (SECO), and the Australian Department of Foreign Affairs and Trade (DFAT).
Infunde Development provides project development and pre-services to IAD in Cambodia, Laos, Vietnam, Indonesia, and the Philippines.
For more information, please visit: https://khmercold.com/
About Phnom Penh Autonomous Port
Phnom Penh Autonomous Port ("PPAP") is a port operator in Phnom Penh, Cambodia. The company was founded in 1905 and became a listed company in 2015. PPAP currently offers services such as pilotage and berthing, tug-boat assistances, general cargo handling, stevedoring, storage, stuffing/unstuffing, lift on/lift off, consolidation/deconsolidation, reefer container, logistics, dredging and surveying, container maintenance and repair, inland container depot, passenger and tourist terminal, and weight station. PPAP is creating a network of ports along Mekong and Tonle Sap Rivers to promote Inland Waterway transportation and collect agriculture products to be shipped directly to overseas or via Container Terminal LM17.
For more information, please visit: https://ppap.com.kh/