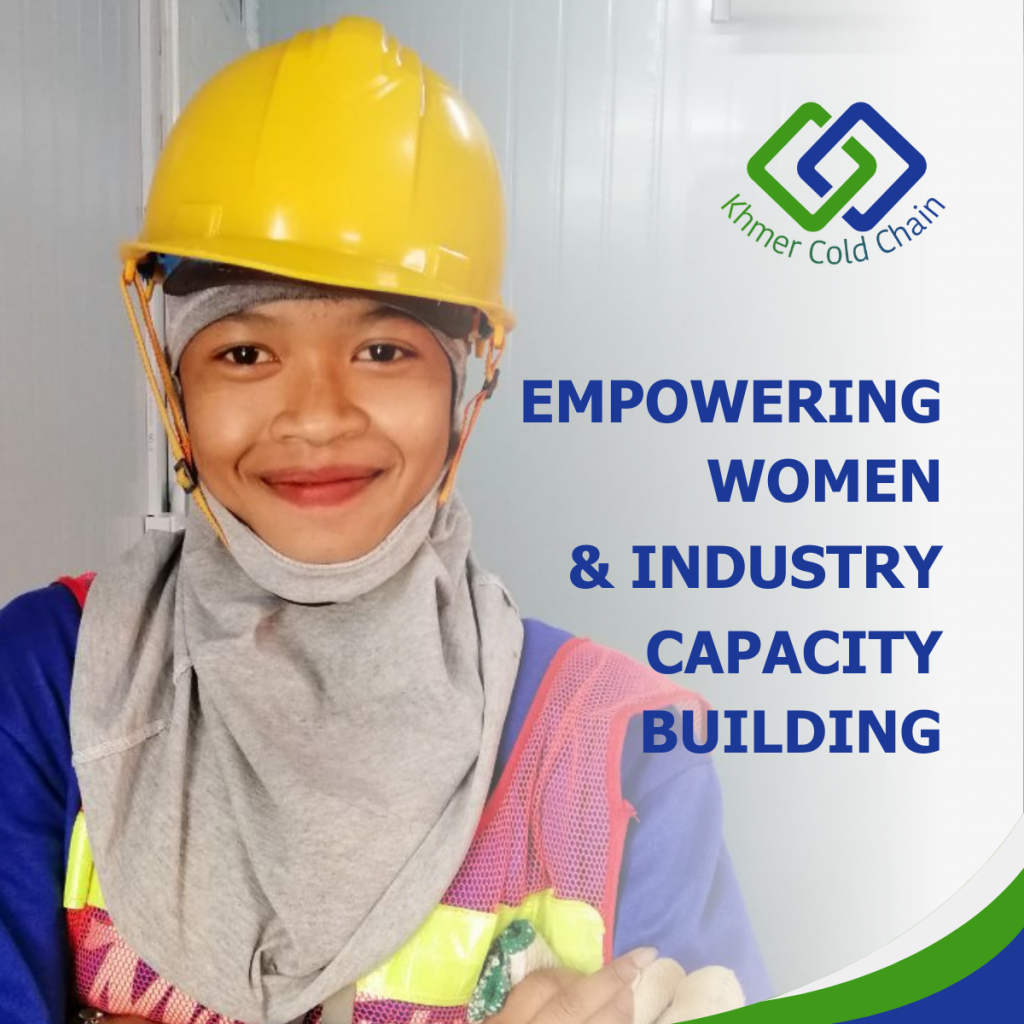 Khmer Cold Chain (KCC) is thrilled to receive a Technical Assistance Grant from The Private Infrastructure Development Group (PIDG) to support our gender-focused development initiative and capacity-building programme for the staff at our cross-docking and cold storage facility on the Mekong river in Kandal Province, Cambodia.
This grant funding will allow us to encourage and support more women workers in the industry and increase employability. We will develop a training plan and execute operational training in technical areas, general business operations, management and leadership.
A significant component of this grant funding is childcare support. By offering all female parents as well as male single-parents a staff childcare allowance, we can create opportunities for them to return to work without incurring the high financial burden of reliable childcare.
We appreciate the support from PIDG Technical Assistance and are looking forward to taking even more steps to enhance gender equality in the industry.
KCC is an InfraCo Asia initiative developed by Infunde Development Pte Ltd and in partnership with Phnom Penh Autonomous Port (PPAP) and USAID.
About InfraCo Asia Development
InfraCo Asia Development Pte Ltd (InfraCo Asia) is a commercially managed infrastructure development and investment company of the Private Infrastructure Development Group (PIDG). Headquartered in Singapore, InfraCo Asia catalyses greater private sector investment in infrastructure across South and Southeast Asia by providing funding and development expertise. InfraCo Asia funds early-stage development activities to realise socially responsible and commercially viable infrastructure that contributes to sustainable and inclusive economic growth.  InfraCo Asia is currently funded by four members of PIDG – the governments of the United Kingdom, the Netherlands, Switzerland and Australia.
For more information, please visit www.infracoasia.com
About Khmer Cold Chain Company
Khmer Cold Chain's vision is to be the leading third-party provider of temperature-controlled logistics, delivering international quality services to the Cambodian and regional farmers, agribusiness, food processers, pharmaceutical companies, food retailers and hotels, restaurants and caterers/institutional (HORECA/HRI), at competitive prices. Khmer Cold Chain is a project company of InfraCo Asia Development Pte Ltd (InfraCo Asia), on behalf of which Infunde Development is developing the project. 
For more information, please visit: https://khmercold.com
About Phnom Penh Autonomous Port
Phnom Penh Autonomous Port ("PPAP") is a port operator in Phnom Penh, Cambodia. The company was founded in 1905 and became a listed company in 2015. PPAP currently offers services such as pilotage and berthing, tug-boat assistances, general cargo handling, stevedoring, storage, stuffing/unstuffing, lift on/lift off, consolidation/deconsolidation, reefer container, logistics, dredging and surveying, container maintenance and repair, inland container depot, passenger and tourist terminal, and weight station. PPAP is creating a network of ports along Mekong and Tonle Sap Rivers to promote Inland Waterway transportation and collect agriculture products to be shipped directly to overseas or via Container Terminal LM17.
For more information, please visit: https://ppap.com.kh
About United States Agency International Development
The United States Agency International Development (USAID)-funded Feed the Future Market Systems and Partnerships (MSP) activity is advancing learning and good practice on market systems development and private sector engagement within USAID, USAID's implementing partners, and market actors. MSP facilitates private sector partnerships to inclusive and resilient agriculture-led economic growth. MSP-facilitated partnerships channel corporate firms and investors outside normal business practices by taking a socially inclusive approach to testing a new model or to scaling a business service or product; and shine a light on systemic barriers in the market system which constrain private sector involvement and investment. For more information, please visit: usaid.gov